Overview
Physical pain, either chronic or after an injury, often changes our lives in many ways that are unpredictable:
Mood
Functionality
Relationships
Roles and Duties
Overall Sense of Self
Our sense of well-being and stability in life are undermined by the pain. Take charge of your physical pain to understand it, decrease the pain, increase participation in life, set appropriate limits, and overall gain quality of life.
---
Online Pain Management Course
Gain Quality Of Life By Understanding & Controlling Your Pain,
Not Letting It Control You!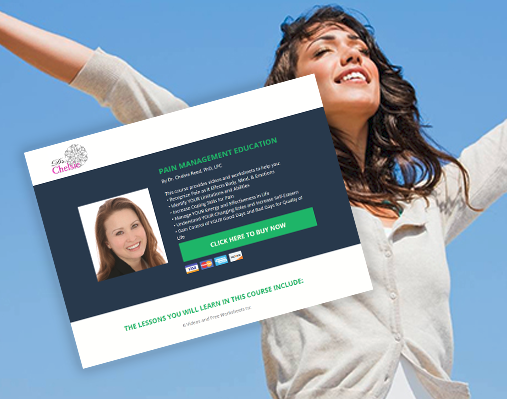 Fast          Affordable          Effective
Comparable to seeing me for in office counseling 6+ times BUT Costs A Lot Less!
This course provides videos to help you in the privacy of your own home, at a time that is convenient to you and I made it affordable to encourage you to confront this issue without hesitation or concern of financial impact.
Here's an outline of what my course covers:
Recognize Pain as It Effects Body, Mind, & Emotions
Identify YOUR Limitations and Abilities
Increase Coping Skills for Pain
Manage YOUR Energy and Effectiveness in Life
Understand YOUR Changing Roles and Increase Self-Esteem
Gain Control of YOUR Good Days and Bad Days for Quality of Life
6 Simple Lessons That Will Improve Your Quality Of Life
Lesson 1  – Describe YOUR Pain
Lesson 2 – Describe YOUR Abilities and Limitations
Lesson 3 – Coping Skills
Lesson 4 – Make It Count!
Lesson 5 – Self Worth — YOUR Roles and Self – Esteem
Lesson 6 – Personal Pain scale to CONTROL your pain
Here's An Introduction To My Online Pain Management Course
Still Not Sure?